Dr. Kevin P. Campbell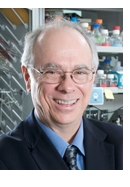 Dr. Kevin P. Campbell is an investigator with the Howard Hughes Medical Institute, the Roy J. Carver Biomedical Research Chair in Molecular Physiology and Biophysics, Head of the Department of Molecular Physiology and Biophysics, and Director of the Senator Paul D. Wellstone Muscular Dystrophy Cooperative Research Center at The University of Iowa. Dr. Campbell also holds joint appointments as a professor in the Departments of Neurology and Internal Medicine.
Dr. Campbell is internationally recognized for his fundamental contributions to muscular dystrophy research. For the past twenty years, Dr. Campbell and his colleagues have actively investigated the molecular pathogenesis of muscular dystrophy. Dr. Campbell's research is funded by a variety of organizations, and the scientific accomplishments of his laboratory have resulted in plenteous publications in high-quality journals. In addition to receiving numerous awards for his outstanding research, Dr. Campbell is an elected member of the Institute of Medicine, the National Academy of Sciences, and the American Academy of Arts and Sciences. Finally, Dr. Campbell is the co-recipient of the 2009 March of Dimes Prize in Developmental Biology.
---